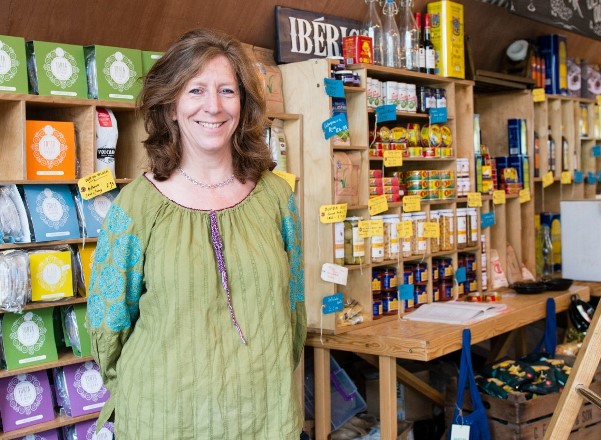 Following the judging of over 4,000 cheeses in a single day at the 33rd World Cheese Awards in Oviedo, Spain on Wednesday 3 November, Brindisa founder, Monika Linton was honoured with the Guild of Fine Food's Exceptional Contribution to Cheese award.
Having established Brindisa 33 years ago, Monika was celebrated by the international cheese community for her achievements in creating a thriving market for Spanish cheeses in the UK and her unwavering efforts in championing artisan food producers, not least during the challenges of lockdown.
Having grown the business over three decades and authored Brindisa: The True Food of Spain along the way, Monika now oversees Brindisa distribution and retail and six Brindisa Kitchens, employs over 220 people and sells over 50 Spanish cheeses at any one time. Among the cheeses currently stocked by Brindisa are 21 winners from this year's World Cheese Awards (see notes below for details).
Said Monika Linton, founder and food director of Brindisa and Brindisa Kitchens: "This prize means so much to me personally and professionally. Exported to London by my brother, our first pallet of Spanish cheese arrived here in 1989, my father helped me weigh and dispatch them to the two customers I had at the time. For more than 30 years, Brindisa people: staff, customers and makers have worked tirelessly to give the cheeses of Spain the profile and appreciation that they deserve. I believe that we led the way in the 90s at a time when the world wasn't ready for Spanish cheese nor were makers comfortable selling beyond their borders. We stuck to our guns searching for cheeses that would hook in buyers and consumers. What Spain is now producing is world class. I learnt at the outset that the raw material, the makers and the land with its terroir were always there, but now the diversity, the quality, the logistics and the skills are strong and forward thinking. It's an extraordinarily exciting time for us, this was the 3rd World Cheese Awards to take place in Spain and this prize is such a boost for our recognition – we have an active cheese team led by my husband, Rupert Linton, who is equally devoted to the mission and we are set to do so much more! Thank you, World Cheese Awards 2021!"  For more visit gff.co.uk/wca